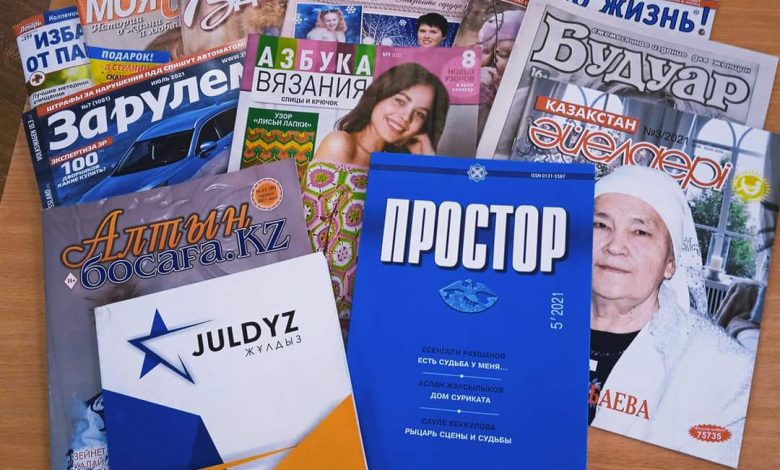 Along with books, magazines have become firmly established in everyday life. To feel smooth or paper pages that are pleasant to the touch, to look at colorful or black-and — white photos, to dive into a useful article-that's why we read magazines and magazines.
We are pleased to offer a selection of magazines that will help in improving the level of knowledge, in maintaining health, as well as find an interesting topic or business to study in your free time.
The oldest literary and artistic magazine «Prostor» of Kazakhstan in Russian. The press organ of the Union of Writers of Kazakhstan. It has been published in Kazakhstan since 1960. It publishes critical journalistic works of fiction by writers of Kazakhstan, essays, bibliography, memoirs.
The magazine «Extracurricular work at school» works with media resources and as a magazine tries to maintain a constructive dialogue not only with the public, but also with interested advertisers. Together with newspapers and books, magazines have become firmly established in everyday life. To feel smooth or paper pages that are pleasant to the touch, to look at colorful or black-and — white photos, to immerse yourself in a useful article-that's why we buy magazines. The editorial staff of the publication knows that you, as a reader, appreciate not only the content of the periodicals, but also its design, and builds its work based on this.
Republican socio-political, literary and artistic magazine » Parasat. The magazine covers the issues of history and literature, culture and art, spirituality. Permanent categories: «Oitolgak», «Tarikh-tagdyr», «Tanym» and many others.
Za Rulem is the first automobile magazine in Russia. It is distinguished by its versatility and diversity. The magazine does not ignore any of the automotive topics.
Good Advice is a monthly magazine for women. Its main topics are the secrets of attractiveness, well-being, home comfort and harmony in relationships with loved ones. Each issue of the magazine opens with an interview with the star-about her personal life, professional success, about home, family and children. The magazine «Good advice» tells about everything that interests a modern woman.
«Non-classical print edition» — we say when we need to briefly describe a new newspaper. «Girls» is a cozy place where women of any age will have a pleasant time. A sincere newspaper for the beautiful half of humanity.
The «Encore Recipes» edition is a good assistant for those who like to cook and eat delicious food! After all, it is so good to gather guests and cook something unusual and extremely delicious for them, thereby giving pleasure to both guests and yourself. And then please and surprise the guests with homemade salted mushrooms or cucumbers, sauerkraut or pickled tomatoes, especially if all this is grown with your own hands. A magazine that has everything you wanted to know about food, but were afraid to ask!
Universal magazine for knitting and crocheting. Its pages feature a variety of models for women of all ages who have different knitting experience. Here you will find a lot of ideas on how to look fashionable and stylish without much cost.
Thematic special issues for the magazine «People's Doctor» — have been published since 2009. In each special issue, one topic (one disease) is covered in great detail. Each topic is considered from different sides, the reader is offered very interesting author's articles on a given topic and interviews with leading experts in this field of traditional and non-traditional medicine. Each special issue contains a lot of interesting materials on this topic, on herbal medicine, homeopathy and folk medicine, as well as a detailed lunar health calendar.
Also, for beautiful ladies, we offer a selection of special colorful publications with which to spend a pleasant time: magazines «Together», «My fate», «Daria», «Boudoir» and others.
We are waiting for you, in our library at the address: Atbasar, A. Batyr str., 26 a.